Adult Group Lessons – Madarao & Tangram
                  
Adult group lessons are offered in both Madarao & Tangram for morning and afternoon lessons and have a maximum of 6 students per instructor, which offers you the best opportunity to gain some valuable ski/ride experience and coaching from qualified instructors, in a relaxed and fun lesson environment. Students are grouped with others of similar ability and spend a 2.5 hour lesson working together to improve technique and explore the mountain.
Group lessons are a great way to access the knowledge of qualified ski instructors and meet new ski/board friends without breaking the bank. Group lessons can be taken as a refresher at the start of your holiday, or every morning to give a better focus for the day's skiing to really fine tune your technique.
Afternoon Group Lessons may be available upon request from 1 – 3.30pm @ 7,500 yen
Note: Group lessons need 2 pax to go ahead. If there is just one pax, it becomes a private lesson. In the rare case of this happening, you will be offered a one hour private lesson which is super special.
Adult (15+) – Max 6 – Group Lessons
Winter Season 2018 – 2019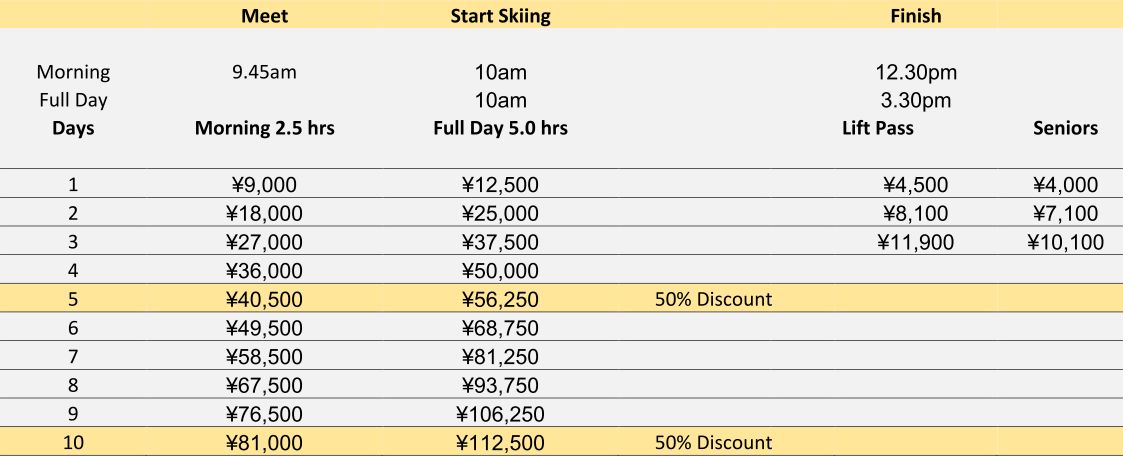 Lift Ticket prices listed are 2017-2018
We encourage all participants to wear helmets.
Lesson participants may be moved between groups to best suit their ability level
Group lessons do not include a lift pass.
Participants must have a suitable snow/skiing travel insurance.
Sign up for news and special offers