Instructors
         Peter Hillman
Pete has been a passionate skier most of his life, and has been a Ski Instructor at both Perisher and Thredbo in the Australian Snowy Mountains for 16 snowy seasons. He is the founder of Action Snow Sports, having it's debut in 2008, with the first skier improvement clinic held in Niseko. Since then, the business has grown each year and now offer 4 clinic types, and have recently opened an International Ski School operating out of  Madarao Mountain Resort which is in Nagano Prefecture, Honshu, Japan.  (Resorts)  Peter has taught in many European ski resorts.  St Moritz and Verbier to Cortina & the Italian Dolomites, Chamonix, Courcheval, Morzine in France, and a stint in Aspen along with many others. Teaching skiers of all levels with his easy to understand BAD ASS fast track to powder program while continually encouraging and coaching the group to reach their full potential, having way too much fun and becoming the best skiers they can be.
For Pete, it's more than just about developing better technique or skiing faster, it's all about having a really enjoyable, fun ski holiday with a balanced mix of not only being taught by high level and experienced instructors and developing stronger skiing skills, but also relaxing into different atmospheres, finding new and exciting places to visit, and tasting the amazing cuisines on offer while making a myriad of new friends. All while Experiencing this amazing and wonderful Japanese Culture.
Peter is a highly qualified APSI Qualified Ski Instructor with Level 3 certification (Australian Professional Snowsports Instructors )
All our instructors are qualified, holding qualifications from near and far such as APSI, BASI, NZSIA, CSIA, CASI
       Some of the crazy team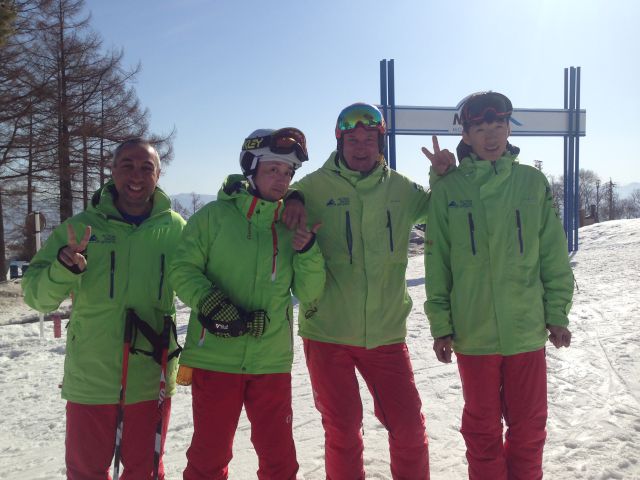 From far left: Magic Andrew snowboard – Crazy Ming Ski – Boss Pete Ski – China Jack Ski.
Andrew is from London, and is so passionate about his teaching and riding. Guaranteed to get you riding first day.
Ming is from Hong Kong where there is no snow, thankfully he came to join us in Madarao. Has an amazing sense of humour and loves teaching kids.
Pete, well not much to say as it's all been said above.
Jumpin' Jack Flash wanted to become an amazing web designer, until he became a ski instructor just three seasons ago. Jack is animated, enthusiastic and full of fun and he knows how to inject excitement into his lessons. In fact, that is one of the things with our instructors is, they are not only chosen for their skiing and snowboarding skills and teaching abilities, but also for how they are able to make the lesson fun, and a great place to be with their clients wanting to come back for more. Well done team, you are awesome. And this is only a third of the crew. More to come soon
Sign up for news and special offers